---
Offered Modalities
---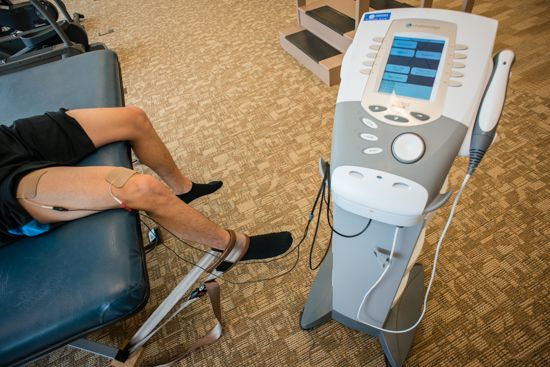 Our physical therapy department offers a number of different electrophysical modalities.  These are often used to control high levels of pain or to increase tissue mobility prior to additional interventions.  Some of the most popular techniques that we utilize are described below: 
Neuromuscluar Re-education Electrical Stimulation: During this procedure, the electrical current will help to stimulate your muscle.  This electrical wavelength will commonly be utilized after a surgery to encourage early strengthening. 
Interferential Electrical Stimulation: This technique is commonly used to help reduce high levels of pain.  It can be combined with heat or cold to increase its effectiveness.  
Ultrasound: This procedure is commonly employed at two separate wavelengths. The first can be utilized to provide deep heating in a safe manner, while the second provides non-thermal healing.  In select cases, ultrasound can also be combined with electric stimulation for multiple goals. 
Biofeedback: The utilization of biofeedback allows for visual feedback during attempted muscle contraction or relaxation. It is often utilized when patients have a hard time activating or relaxing select muscles.  It is often utilized as part of a pelvic floor retraining program for urinary or fecal incontinence.