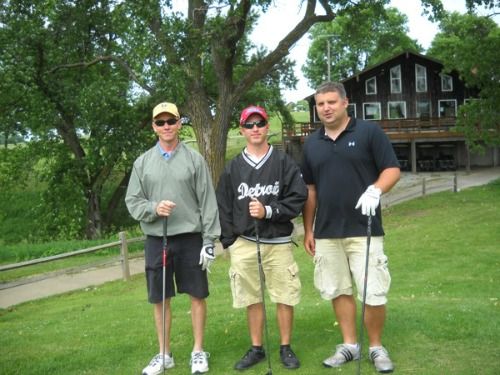 The Johnson County Hospital Foundation hosted its annual golf tournament on June 12, at the Tecumseh Country Club. The three-person scramble consisted of 10 teams from the community and surrounding areas. The participants enjoyed 18 holes of golf, flag and raffle prizes, lunch and a barbeque dinner.
Golfers competed for prize money generated by their entry fees and more than $3,500 dollars that was donated by hospital vendors, local businesses and community members. At the end of the tournament the teams were divided into two flights. Mark Scott, Nate Goodrich and Jeff Mahoney (pictured) won first place in the first flight, with a score of 58, followed by Tim Olson, Jeff Wallace and Bill Kampen in second place, with a score of 61. Bruce Dalluge, Deb Dalluge and Roger Weakland won first place in the second flight, with a score of 69, followed by Ted Evans, Ted Evans III, and Trenton Evans in second place, with a score of 70.
"We cannot thank everyone enough for their generous support," said Mary Bossung, Johnson County Hospital Foundation Director. "We had a great turn out and hope to have more teams next year. At the end of the day, more than $3,500 was raised, which will go toward funding a GlideScope for Johnson County Hospital."
A GlideScope is used to perform laryngoscopes. A laryngoscopy is a medical procedure that is used to obtain a view of the vocal cords and the glottis. Laryngoscopes are performed to facilitate tracheal intubation during general anesthesia or cardiopulmonary resuscitation (CPR) or for procedures on the larynx.
For more information on how you can contribute toward the Johnson County Hospital Foundation, please contact Mary Bossung at 402-335-6366.