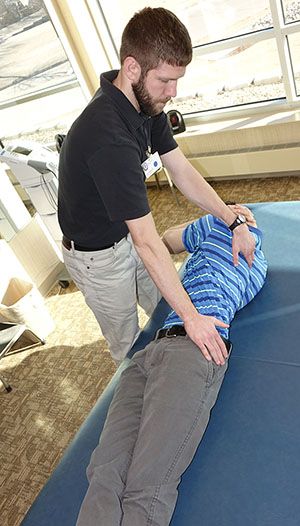 According to a 2012 survey by the American Physical Therapy Association, 61% of Americans said they have experienced low back pain. Furthermore, it is estimated that nationwide direct healthcare spending for low back pain can be as high as $85 billion per year. As a positive note, most back pain is not serious and will respond favorably to conservative treatments such as physical therapy.
Due to the sheer number of people who experience non-specific low back pain, and the number of possible causes of this pain, it's unrealistic to expect each person suffering back pain to respond to the same treatment methods. Recently, several well-respected researchers have begun to classify low back pain into four subgroups, allowing for a more detailed study of each. While detailed description of each of these subgroups is beyond the scope of this short article, I would like to focus on a faction of patients who respond very quickly to physical therapy intervention.
In physical therapy, like other medical professions, there's been an interest in developing "clinical prediction rules." These rules are developed when statistical analysis displays a link between certain clinical findings and outcomes. One rule commonly used in physical therapy practice was first published in a 2002 edition of Spine, a leading peer-reviewed journal in the area of back pain. The authors, all physical therapists, were able to identify a group of clinical findings displayed by patients who will successfully respond to thrust mobilization, a common manual therapy treatment directed at the spine. The five identifying factors are:
• Symptoms less than 16 days
• Symptoms not radiating further than the knee
• A score of less than 19 on the Fear Avoidance Beliefs Questionnaire (FABQ)
• Decreased lumbar spine movement as judged by the physical therapist
• Hip inward rotation of greater than 35 degrees on one side
If a patient meets 4 out of the 5 criteria, there is a 95% chance that a thrust mobilization will decrease the pain to half its initial level or less over the next 2-4 days. Furthermore, if the patient only meets the criteria of having had symptoms for less than 16 days, and has no symptoms below the knee, there is still an 86% chance of pain being reduced by half or greater following a thrust mobilization.
Dr. Julie Fritz, a physical therapist and researcher from The University of Utah has published extensively on low back pain. One of her more recent articles published in Spine, has addressed the healthcare cost savings with early physical therapy referral for those suffering from low back pain. In her study, she reviewed the healthcare charts of patients who sought out their primary care provider due to back pain. Those referred to physical therapy were divided into early referral (occurring within 14 days) and delayed referral. She then tracked healthcare spending over the next 18 months of that patient's care. The results indicated that among patients utilizing physical therapy, early referral was associated with lower overall healthcare costs including less advanced imaging, less additional physician visits, less major surgery, less lumbar spine injections, and less opioid medication.
We know that low back pain is very prevalent. We also know that many times it is not serious and will get better in time. However, early referral to physical therapy can significantly decrease your overall healthcare spending in addition to avoiding some advanced procedures such as imagining and injections. In addition, if you fit the clinical prediction rule for thrust mobilization, you can be quite confident that physical therapy will be successful for you.