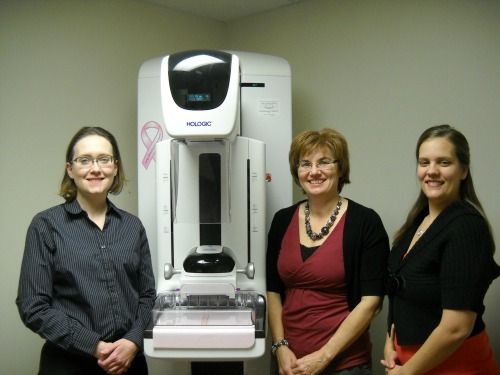 Earlier this spring it was announced that the Johnson County Hospital will receive more than $530,000 over the next three years from the The Leona M. and Harry B. Helmsley Charitable Trust to offer digital mammography.
Funds distributed in 2011 have been used to remodel the mammogram room, purchase and install new, state-of-the art, Hologic digital mammography equipment, which has the capability to be upgraded for recently approved digital tomosynthesis, and provide necessary training. Funds will also be used for public awareness and patient education over the next three years.
Breast cancer has become the most common non-skin cancer and is the second leading cause of cancer-related deaths in the nation. In 2009, 17 biopsies were performed at Johnson County Hospital, five of which were cancerous.
This digital technology will ensure that our patients are receiving the highest level of diagnostic services available for early detection and treatment. The increase in early detection will reduce breast cancer mortality rates. Other benefits include: improved contrast between dense and non-dense breast tissue; faster image acquisition; shorter exam time; easier image storage; physician manipulation of images for more accurate breast cancer detection; the ability to correct under or over-exposure of films without having to repeat mammograms; transmittal of images for remote consultation with other physicians.
Digital mammography will allow us the ability to detect subtle changes in breast tissue, enhancing our ability to detect breast cancer early. Early detection will allow for less invasive treatments and therapies, letting the women of our community continue to live normal, healthy lives.
For more information about having a digital mammogram, please contact the Radiology Department at Johnson County Hospital at 402-335-3361.
For more information about The Leona M. and Harry B. Helmsley Charitable Trust, please contact Shelley Stingley, Director of the Rural Health Care Programs, at 605-361-9848.