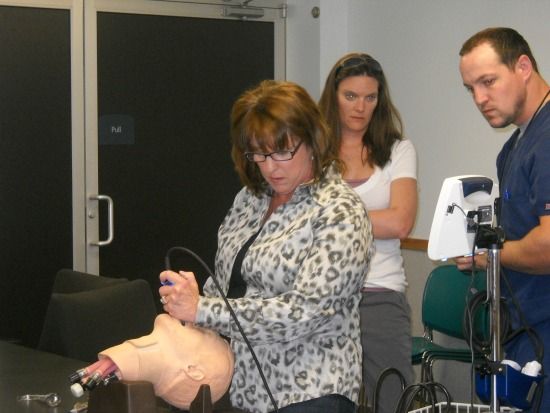 With help from the Johnson County Hospital Foundation, Johnson County Hospital recently purchased a GlideScope valued at approximately $18,000 for its facilities.
Emergency preparedness and trauma readiness in rural areas is essential to saving lives. Establishing and maintaining a patient airway in an expedient manner is a critical part of emergency care. Without adequate airway and oxygenation, patient outcomes can rapidly deteriorate.
Airway management is complicated by factors such as trauma, obesity and other anatomical anomalies that clinicians must overcome in patients of all sizes and weights. That is why reliable, practical airway tools for a wide range of circumstances are so important in the emergency department.
A GlideScope is used by healthcare providers in the case of an emergency to perform a laryngoscopy, which is a medical procedure that is used to obtain a view of the vocal cords and the glottis. Laryngoscopes are performed to facilitate tracheal intubation during general anesthesia or cardiopulmonary resuscitation (CPR) or for procedures on the larynx.
"I am amazed at how easy it is to operate," said Beth Gobber, PAC, after training. "We were able to see all of the landmarks to be able to intubate with ease. I hope it's something we won't have to use very often, but it's a necessary addition to our equipment."