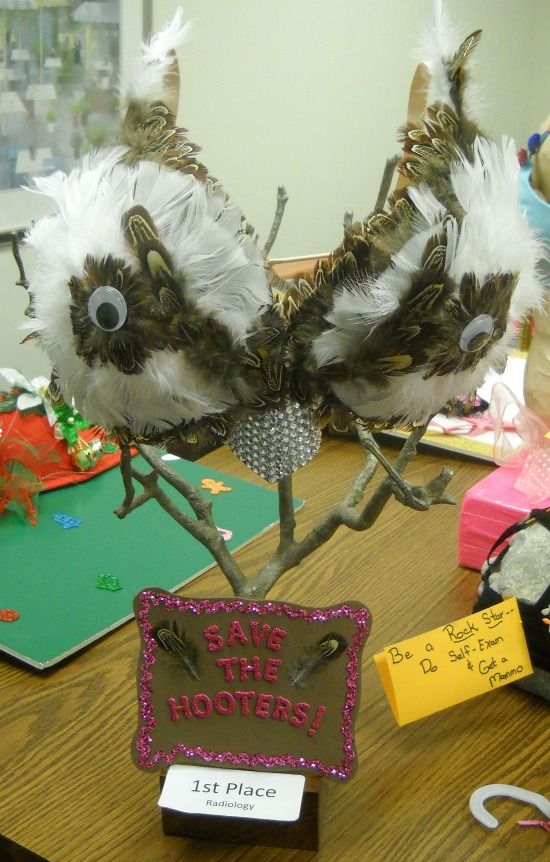 In celebration of National Breast Cancer Awareness Month, Johnson County Hospital hosted a ladies afternoon out on Saturday, Oct. 19. Guests were invited to the ScaleHouse on the square in Tecumseh for free wine tastings, appetizers and door prizes. Attendees were also asked to vote on their favorite "blinged bras" that were decorated by JCH employees and displayed at the event.
"We thank everyone who came; we had a nice crowd of about 70 people join us at the event," said Mary Bossung, Foundation Director. "I think everyone had a good time and especially enjoyed the decorated bras. Our staff had fun making them, and we had 17 on display. The 'save the hooters,' feathered, owl bra, decorated by the radiology department, won first place by a landslide."
The event was sponsored by grant funds attained from The Leona M. and Harry B. Helmsley Charitable Trust. With such a positive response, Johnson County Hospital plans on hosting similar breast cancer awareness events in the future, acquiring funds from various other sources.
"Johnson County Hospital has invested more than $600,000 in equipment, education and promoting breast health over the past three years," Bossung said. "The event on Saturday was only a small part of our efforts in mammography and breast health."
The Johnson County Hospital Foundation secured $530,161 in grant funds from the The Leona M. and Harry B. Helmsley Charitable Trust in 2011 to renovate the radiology suite, purchase and install a state-of-the-art, Hologic digital mammography machine and launch a public awareness campaign.
"Digital mammography allows us the ability to detect subtle changes in breast tissue, enhancing our ability to detect breast cancer early," said Anne Dorn, Radiology Director. "Early detection will allow for less invasive treatments and therapies, letting the women of our community continue to live normal, healthy lives."
Other benefits of digital mammography are: improved contrast between dense and non-dense breast tissue; faster image acquisition; shorter exam time; easier image storage; physician manipulation of images for more accurate breast cancer detection; the ability to correct under or over-exposure of films without having to repeat mammograms; and transmittal of images for remote consultation with other physicians.
In 2012, $37,491 in grant funds from Susan G. Komen Nebraska enabled radiology director, Anne Dorn, and technologist, Crystal Binder, to attend training and attain their mammography certifications and credentialing. In addition the grant supported salaries and benefits so that JCH could begin offering digital mammograms five days each week. Anne, Crystal and JoLene Bartels, are performing all of the exams.
In 2013 Johnson County Hospital received an additional $35,319 in grant funds from Susan G. Komen Nebraska that allowed the hospital to do three things. First they helped to continue to finance the equivalent of one full-time employee so that mammography screenings could continue being offered five days each week. Second, they enabled the radiology department to have a contracted service with an experienced mammography technologist, JoLene, to ensure quality control for the newly trained technologists, Anne and Crystal. Finally, they allowed the hospital to provide education for all three technologists on better breast positioning to reduce the number of repeated images.
"We are really pleased with how far we have come over these past few years," Dorn said. "We are looking forward to what is to come."