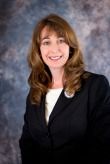 Diane C. Newman, FACHE, Administrator of Johnson County Hospital recently became a Fellow of the American College of Healthcare Executives (ACHE), the nation's leading professional society for healthcare leaders.
"The healthcare management field plays a vital role in providing high-quality care to the people in our communities, which makes having a standard of excellence promoted by a professional organization critically important," says Deborah J. Bowen, FACHE, CAE, president and chief executive officer of ACHE. "By becoming an ACHE Fellow and earning the distinction of board certification from ACHE, healthcare leaders demonstrate a commitment to excellence in serving their patients and the community."
Fellow status represents achievement of the highest standard of professional development. In fact, only 9,100 healthcare executives hold this distinction. To obtain Fellow status, candidates must fulfill multiple requirements, including passing a comprehensive examination. This examination tests knowledge in Governance and Organizational Structure, Human Resources, Finance, Professionalism and Ethics, Healthcare Technology and Information Management, Quality and Performance Improvement, Healthcare, Laws and Regulations, Business and Management. Fellowship status criteria also include meeting academic and experiential standards, earning continuing education credits and demonstrating professional/community involvement. Fellows are also committed to ongoing professional development and undergo recertification every three years.
Newman has been the Administrator of Johnson County Hospital since May of 2002. She received her master's degree in Healthcare Administration from the University of Minnesota. Before she began at JCH she was employed by Rural Health Development, a rural management company, from 1996 to 2002. During that time she was Administrator of the Plainview Hospital, served as a Regional Management Marketing Director and was the overseer of facility training in western Nebraska. As the Administrator of Johnson County Hospital, she is responsible for management of the hospital and carrying out the philosophy and objectives established by the governing board. She is directly responsible for general direction and supervision of hospital operations, financial affairs, nursing, and diagnostic and therapeutic patient care services. She is also responsible for maintaining compliance with federal, state and local codes, regulations and ordinances as they apply to hospitals.
Under Newman's supervision, Johnson County Hospital was recently awarded the honor of being named as one of the country's Top 20 Critical Access Hospitals for Quality, according to the National Rural Health Association. She is also a member of many regional, state and national organizations and is currently the president of the Tecumseh Chamber of Commerce.
A member of ACHE since 2004, Newman feels privileged to use the FACHE® credential, which signifies board certification in healthcare management and ACHE Fellow status. "I am honored to become a fellow of the American College of Healthcare Executives," Newman commented. "The mission of Johnson County Hospital is to deliver high-quality health care services. The Johnson County Hospital staff has demonstrated their commitment to upholding standards of excellence for our patients. I am proud to be recognized by ACHE for achieving this level of professional development."