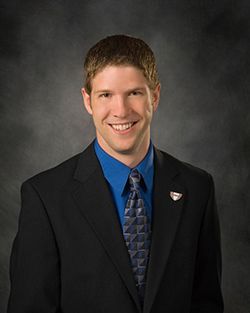 Jed Droge, Director of Rehabilitation for Johnson County Hospital, attended the American Physical Therapy Association's (APTA) Combined Sections Meeting February 4-7 in Indianapolis, Ind. The Combined Sections Meeting (CSM) allowed all 18 of APTA's specialty sections to combine for one very large event. Attendees were able to gain a large amount of information on a significant range of information.
More than 10,000 physical therapy professionals from around the country attended the meeting. Droge was able to interact with many of the leading experts in the physical therapy profession on a personal level and was able to attend special seminars highlighting different aspects of physical therapy. Also, the exhibit hall featured more than 400 companies who showcased their latest products and services available to physical therapy professionals, giving attendees a chance for more hands-on and detailed information.
"Since I practice in a rural, critical access hospital, it's important for me to stay up to date in many areas," said Droge about attending the CSM. "At JCH, we see everyone from early intervention infants, to individuals over 100 years of age. Our practice settings include school-based pediatrics, acute hospitalizations, swing bed rehabilitation, home health, and outpatient physical therapy.
In 2014, Droge was one of only 18 physical therapy professionals nationwide to be named as an American Physical Therapy Association Emerging Leader. The APTA represents greater than 90,000 PT professionals.