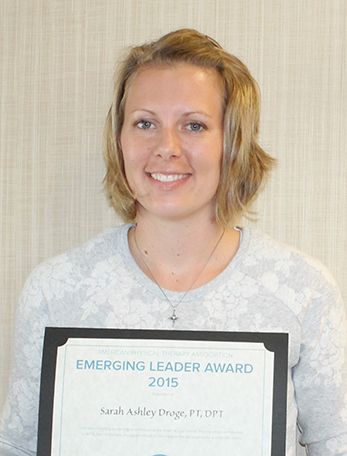 Reprinted with permission by the Tecumseh Chieftain
Sarah Droge, a physical therapist at Johnson County Hospital, was recently chosen as the recipient of the Emerging Leader Award presented by the American Physical Therapy Association (APTA). Droge was one of 27 physical therapists to receive this award nationally.
The Emerging Leader Award was established to annually honor individuals who have demonstrated extraordinary service to the profession and APTA early in their careers. Droge believes receiving this award will help her to be mindful of the choices she makes as a physical therapist when treating her patients.
Droge began her career in physical therapy in 2009. She currently serves as co-chair of the Continuing Education Committee for the Nebraska Physical Therapy Association and has been involved in hosting two state meetings a year in Nebraska. As co-chair, Droge has been instrumental in bringing in outstanding research-based guest speakers to give presentations that would be of interest to Nebraska's physical therapists as well as the physical therapist assistants (PTA). Droge's term with the Continuing Education Committee ends in 2016. At this time, she is trying to assist new committee members in lining up guest speakers for the 2016 conventions.
"I'm very humbled and honored to be recognized for my hard work during my first six years as a physical therapist," said Droge. "There are other physical therapists out there that are leaders and also deserving of this award," she added.
Droge went into physical therapy after she suffered an injury while running in college. No one, except her physical therapist, could diagnose what her injury was and assisted in Droge's recovery. "This set the tone on my decision to go into physical therapy as a career," she added.
Other highlights of Droge's career include serving as a co-chair for the Joint Effort Volleyball Tournament, which is a fundraiser for the Arthritis Foundation. She also established a 5K/2 walk as an annual event in the Cozad community. Droge is a member of the Philanthropic Educational Organization (PEO), which supports educational opportunities for women. She is LSVT BIG certified, which allows Droge to assist people with Parkinson's disease. Droge is already looking forward to the third annual Injury Prevention Camp for senior and junior high athletes in area schools, which is held during the summer months of 2016. This event is held at the track at Johnson County Central Schools during the summer months.
"I'm gracious and thankful, when people recognize my hard work," Droge concluded.