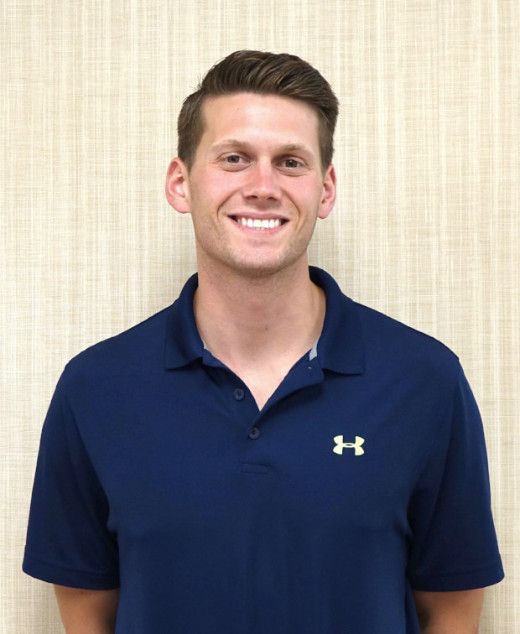 Alex Habegger started working as a new physical therapist for the Johnson County Rehabilitation Department in May. Previously, he completed a clinical rotation at the hospital in early 2015. Now hired as a full-time physical therapist, Habegger treats patients who have health conditions that limit their ability to move. Each patient receives an individualized treatment plan that optimizes the benefits of physical therapy. Whether it is foot, knee, back problems, or some other health issue that causes pain and loss of movement, Habegger helps the patient decrease pain and increase mobility.
Habegger enjoys working on orthopedic and vestibular (balance and dizziness) rehabilitation. "While on clinic rotation at JCH, I was able to have Jed (Droge) as a clinical instructor who introduced me to orthopedic research in physical therapy. I was able to use evidence-based practice to help rehab patients post joint replacement, post ACL surgery, as well as patients with a variety of sports and orthopedic conditions," Habegger said. He added, "While on a clinical rotation in Lincoln I was able to have a vestibular PT as a clinical instructor, as well as take a vestibular specialty class in my last semester. This included treating conditions such as Benign Paroxysmal Positional Vertigo, post-concussion patients, and patients with balance deficits from a variety of origins."
A knee injury in high school, and the necessity of rehabilitation, sparked Habegger's interest in physical therapy. Then during college, he worked at a physical therapy clinic as a tech. "I really liked the physical exercise part of therapy and seeing people progress from walking through the door on the first day to leaving on discharge day," Habegger said.
A graduate of Pawnee High School, Habegger attended Nebraska Wesleyan University, where he received a Bachelor of Science degree in Exercise Science. He then went on to receive his Doctorate in Physical Therapy in May of 2016 from the University of Saint Mary in Leavenworth, Kansas. Habegger is a member of the American Physical Therapy Association and the Kansas Physical Therapy Association.
Habegger grew up in Pawnee City. His parents, Larry and Deb, still live there. Habegger likes to spend time back home with family and friends. You might also catch him playing in a winter basketball league, boating, or just enjoying being outside.